Reviews
"The virtuoso Venezuelan pianist Clara Rodriguez".
The Daily Telegraph. London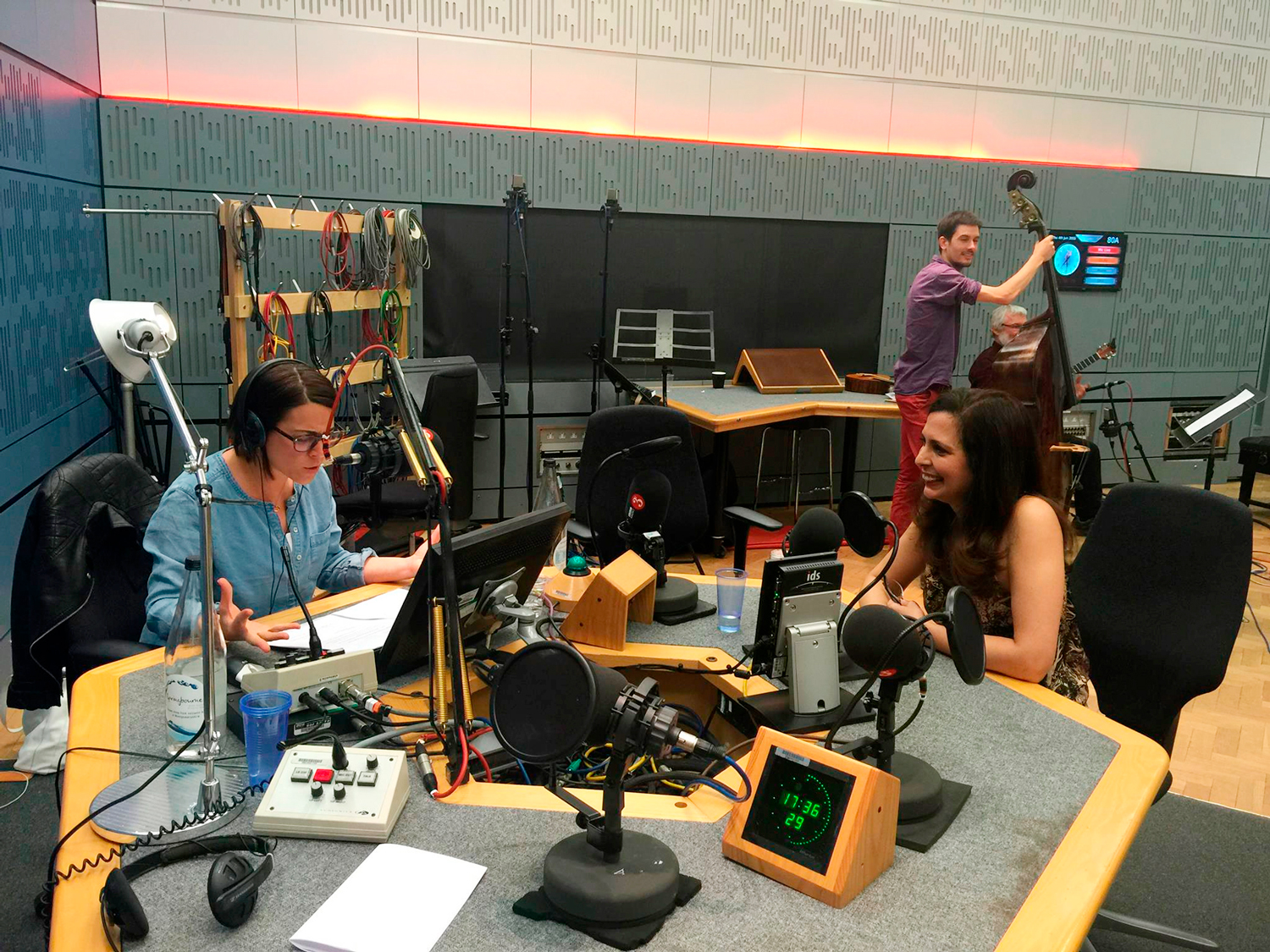 At BBC Radio 3 live interview with Suzie Klein.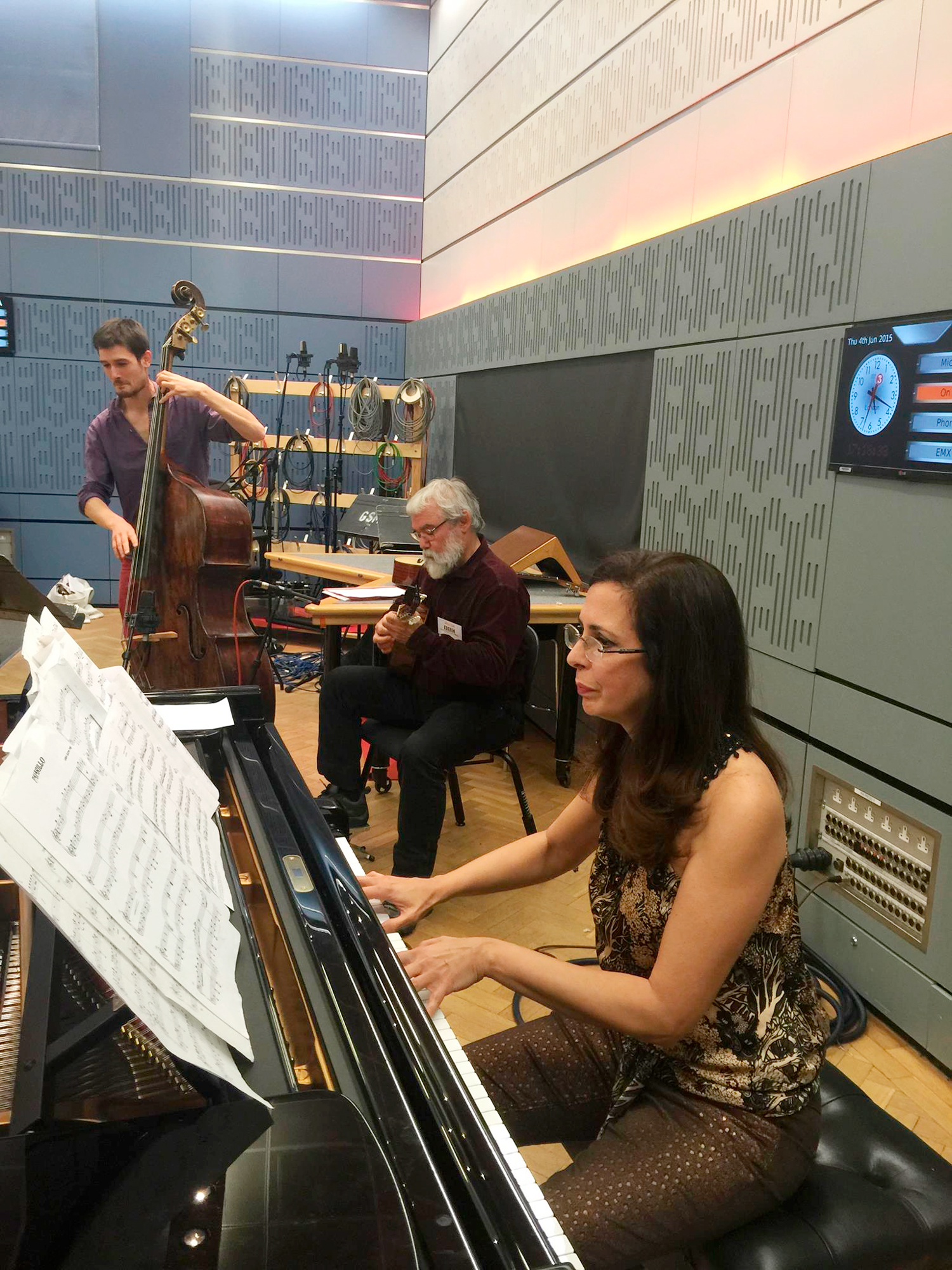 Playing live at BBC Radio 3 live interview with Suzie Klein.
GERSHWIN ET AL
Americas Without Frontiers
Rodriguez (piano)
Nimbus Alliance NI6346
"The Venezuelan is a doughty champion of Latin-American music, and her programme of piano pieces reaches below and often jaunty surface to capture the region's deeper soul. Plenty is captivating, not least Venezuelan works by Antonio Estévez and Juan Carlos Núñez, while Gershwin's Three Preludes are a class act".
Stephen Pettit. The Sunday Times
"London label Ulysses Arts (UA), which works as a consultancy and record label, brings together a community of internationally renowned artists. In addition, UA also provides digital experience to clients in other artistic disciplines, including design and literature publications. It thus offers an innovative classical music format.
Among its artists, we find Venezuelan Clara Rodríguez, one of the most distinguished pianists on the international scene. This distinction is evident especially in the emotional connection she has with Chopin's music. The Polish composer and pianist composed the Piano Sonata No. 3 in B minor, op. 58, in 1844, published the same year in Leipzig. It was the last of his three sonatas written in full maturity, in which the author follows the dramatic structure inherited from classical composers.
In this masterpiece, Rodríguez marks with delicious expressiveness its differences and contrasts while maintaining a perfect balance in the inseparable fusion between form and content. The truth is that the wisdom of Rodriguez's interpretation, provides to this version a universal dimension of romantic pianism.
The Venezuelan pianist arranges and dispatches the ornamental arabesques of Chopin's emotional melodies with great virtuosity. She creates intimacy and refines the rich expression springing from the Mazurkas op. 63 and 24; Barcarolle, op. 60; Ballade No. 4 in F minor, op. 52; the Nocturnes, op. 62, and Polonaise-Fantaisie in E flat major, op. 61, which constitute the common thread of this recording.
The charming lyricism of Clara Rodríguez, the lightness of her piano touch, intertwines the strength of the Polonaise-Fantaisie with the tranquility and rest of these wonderful pieces of extraordinary nocturnal nature".
Marçal Borotau. Sonograma Magazine
"Teresa Carreño (1853- 1917), nicknamed "The Valkyrie of the Piano", had much in common with Martha Argerich: South American (Carreño hailed from Venezuela), charismatic, much married (Argerich has had three husbands, Carreño had four), and hailed as one of the greatest pianists of the day. But Argerich, as far as I know, does not compose.
Carreño turns out to be rather good at it, a natural tunesmith of lyrical grace and, frequently, originality. If you can take a whole disc of Moszkowski or Gottschalk, whose protégé Carreño was, you will certainly enjoy this high-class salon music in (mainly) world premiere recordings. Though these two composers play a part in her music (Vals gayo has a Gottschalkian Latin-American lilt, Une revue á Prague uses some configurations at the top of the keyboard borrowed from Louis Moreau, while her Intermezzo is a close relation of Moszkowski's La jongleuse), Carreño is very much her own woman: try the extended Ballade (7'22"), the two touching Elegies, Un rêve en mer and Le sommeil de l'enfant. The first subject of Un bal en rêve seems to be a prescient version of "Happy birthday to you", while Kleiner Waltzer (tr 11), her once-popular and most celebrated composition, was recorded by one of her husbands, Eugen d'Albert (Carreño herself made a piano roll of it).
Such music needs an empathetic spirit to show it to its best advantage and Clara Rodriguez, Venezuelan herself, provides it with performances of alluring vivacity allied to that most essential of requisites in this type of repertoire – charm. Highly recommended."
Jeremy Nicholas. Gramophone Magazine
"The Venezuelan Teresa Carreño (born in Caracas 1853; died in New York 1917) was, with Clara Schumann, the most celebrated female pianist of the 19th century. Most of these works are self-evidently morceaux for the salon, but superior specimens of the genre, requiring a pianism above the ordinary and showing a complete technical command.
Clara Rodriguez is a sympathetic and enthusiastic interpreter. It's a sure and agile touch. She invests all this highly agreeable music with vibrant life. The recording is superb."
Pianist Magazine - Selected Discs
"Toe-tapping polonaise rhythms and mazurkas give way to more contemplative pieces such as the charming lullaby dedicated to her father, or the poignant elegiac 'Partie' written when she was just fourteen to commemorate the death of her mother. The lilting 'Venecia', as its title suggests, is a gently swaying barcarole while 'Un bal en Reve' overflows with joyousness and bonhomie. But there is more to this disc than nostalgia and lightheartedness. One of the more substantial pieces here is the 'Une revue a Prague', a full-blown virtuosic concert study given virtuoso treatment by the pianist. This disc has been a real discovery. It is a collection with which to settle down in front of a warming winter fire."
Martin Furber. Amazon
Clara Rodriguez at the Purcell Room
"The distinguished Venezuelan pianist Clara Rodriguez is well-known for the care with which she compiles her programmes and this one, at the Purcell Room on December 3, entitled Histoires D'Amour was no exception. In a concert that set out to explore music inspired by feelings of love, longing and friendship she gave us a masterclass of the interpretative art in music by Debussy, Ravel and Reynaldo Hahn ending with music from South America, which Rodriguez has done so much to promote over the years. Interspersed by relevant texts read by Timothy Adès and William Roberts, it made for an engrossing evening.
The evening began with two éstudes by Debussy – Pour les degrés chromatiques and Pour les arpèges composés, which the composer himself described as extremely difficult and with a warning to pianists "not to take up the piano as a profession unless they have remarkable hands" ! Clara Rodriguez brought not only great technical skill, but a fine artistic sensibility to her playing.
Next a reading of Paul Verlaine's poem Clair de lune which inspired the third section of the Suite Bergamasque , prefaced a performance of one of the best known and best loved compositions. Disarmingly simple, the pieces nonetheless require playing of consummate skill, which this pianist possesses in spades.
Another reading followed, describing the intense relationship between Marcel Proust and Reynaldo Hahn, in which Proust said: "Everything I have ever done has been thanks to Reynaldo Hahn" Hahn's Premiéres Valses exhibited such style and passion that it is a mystery he is not performed more often. Although -like Rodriguez- hailing from Venezuela, Hahn moved to France as a child and it is the music of that country that gives his music particular piquancy.
A final reading of Aloysius Bertrand 's poem introduced the "Ondine" sequence from Gaspard de la Nuit as well as the Toccata from Le Tombeau de Couperin by Ravel, who himself wrote that he "tried with notes what the poet expresses with words". In the first piece Rodriguez eloquently captured the sound of cascading water, while in the Toccata she expressed the sonority of the dedication to the composer's friend who had died in the First World War, echoing the dedication of the whole concert to Robert Muller, Rodriguez's son Leonardo's great-grandfather, who had fought at Verdun.
Indeed the second half of the concert developed into a splendid evening of family and friends, with violinist Freya Goldmark joining Rodriguez for Hahn's Sonata for Violin and Piano, cellist Corentin Chassard for Debussy's Sonata for Cello and Piano and Leonardo Muller-Rodriguez continuing the family's music tradition, on electric bass guitar for two South American farewell pieces Adiós Nonino, Piazzolla's heartfelt tribute to his father, and Historia de un amor, Carlos Almarán's well-known farewell to his lost love, making a fitting end to a fine concert".
Ralph Hart. Musical Opinion. January 2019
Venezuela album Nimbus Records NI6122
"Dances that show that there is more to Venezuela than El Sistema… Their harmonic language is conservative, ranging from mid-19th century European, highly reminiscent of Gottschalk, through to the jazz-inflected idiom of Antonio Carlos Jobim, with frequently maddeningly catchy melodies and rhythms that are almost all dance -based.
The music might be undemanding to hear but it is certainly not undemanding to play; and, as with her previous engaging disc of her compatriot Teresa Carreño, Clara Rodriguez makes the most of her innate feel for the exuberant and languorous, dispatching the toe-tapping cross-rhythms with panache and a light touch. Almost any of these, but particularly Paesano's Pajarillo, Bor's Fuga and Fernández El diablo suelto, would make a refreshing encore… This is a treasure chest from which to cherry-pick.The piano has been vividly recorded at Nimbus Wyastone Concert Hall … Miss Rodriguez's chatty 12-page booklet with her enchantingly idiosyncratic English".
Jeremy Nicholas. Gramophone Magazine
"Her Mozart KV 333 was a demonstration of virtuosity and brilliancy within a strict gallant style.Her version of Chopin's Polonaise-Fantaisie (1846) was animated by a genuine dramatic sense as well as being instinctive and spectacular".
Simon Corley. Paris-Invalides
Clara Rodríguez. The Purcell Room
"A feast of Venezuelan dances is not the usual piano recital fare, yet with just the right balance of ebullience and excitement, as performed by Clara Rodriguez, it enthralled a large audience of all ages, at the Purcell Room on March 22. Caracas-born and based in London, Clara Rodriguez is ideally suited to this repertoire, which straddles the line between light music and miniature character pieces. With her genial introductions she took us on a fascinating journey through unfamiliar territory, much of which she has recorded, most recently in the album VENEZUELA (Nimbus Alliance NI 6122). Her selection of some twenty-two joropos, waltzes and merengues, illustrated their distinctive stylistic amalgam of Americo-Indian, Latin syncopation and indigenous Venezuelan dances through vivid syncopation and cross rhythms. Reading from the manuscript scores, since much of the material awaits publication, Rodriguez gracefully managed the panoply of pianistic textures, polytonality harmonic surprises, deep bass melodies and sometimes soupy nightclub chromaticism, imbuing each simple form with its unique élan. As well as their compositions, even the names of the composers radiated musicality, as in the sentimental lyricism of Pajarillo by Luisa Elena Paesano (b. 1946) which opened the programme and a nocturne by Maria Luisa Escobar (1903-1985), contrasted by a brighter neoclassicism in film music by Federico Ruiz (b.1948), whose piano concertos Rodriguez has performed. More intriguingly modern dissonance in the waltz Adriana by Miguel Astor (b. 1958) linked him to the better-known Antonio Lauro (1917-1986) whose style, here shown to great effect in three pieces, with hints of Debussy, especially in the joropo Seis por derecho. A waltz by Ricardo Teruel (b. 1956) emulated modern jazz, in contrast to the more Lisztian romanticism of Federico Vollmer, Pedro Elías Gutiérrez (1870-1954) and Luis Laguna (1926-1984). Throughout, Rodriguez, bedecked in her golden Venezuelan dress, elicited from her instrument Chopinesque lyricism and caressing tone. Amidst such a feast of delicacies, two stood out for their sparkling virtuosity and sheer sense of fun, Joropo by Moises Moleiro (1904-1979) and El Diablo Suelto by Heraclio Fernández (1851-1886) which pulled no punches in piano panache, while two more delicious encores by Ruiz and Paesano, brought this entertaining programme full circle".
Malcom Miller. Musical Opinion. London
"What a treat was in store for the gratifyingly large audience at the Purcell Room last autumn. There was a pianist of rare quality to meet us with grace of demeanour and palpable pleasure in her very special brand of musicianship. Her name? Clara Rodríguez; not a newcomer, but one whose return to the South Bank had been rightly anticipated with eagerness by former admirers. And why is she so special? She can and does play softly, with a range of nuance between pianissimo and mezzoforte of rare subtlety, of the kind which makes the music steal upon the ear like vibrations from another world. We heard Schubert's Sonata in B flat D960, played as the essay in quietude which it surely is: all four movements differentiated in the most perceptive of ways, and the whole producing an unforgettable spell of unsullied beauty. This came after an opening of a group of so-called Children's Pieces by the Venezuelan composer Antonio Estévez music of character and charm. Later we heard Poema Singelo by Villa-Lobos, a beautiful study in shifting sonorities. Finally came a riveting account of Chopin Sonata in B minor Op.58 magical in its unforced poetic feeling and clarity of articulation."
Geoffrey Crankshaw. Musical Opinion. London
"South American Belle"
A portrait of Clara Rodriguez by Bill Newman (Excerpt) Music & Vision
"This whole business of placing a concert pianist in a special category may spell taboo to piano buffs, but the thoroughly vivacious Venezuelan-born Clara Rodriguez has several unusual slants to her artistry. And a growing number of appetizing programmes, all containing intriguing titles to whet people's appetites and dissuade them from returning home afterwards…When I first heard her play it was at the Purcell Room of London's South Bank…the challenge was there to create unusual colour contrasts between the usual classical fare of Liszt, in his famous B minor Sonata, and some exotic output of Moises Moleiro and Federico Ruiz, both represented on ASV CDs. Gorgeously dressed to match the occasion, Rodriguez's sensuous playing did everything to vitalize the constant admiration of senior music critic G. Crankshaw, and brought forth much praise from my fond colleague, Phyllis Sellick. The Liszt on this occasion was persuasively different to artists unleashing tonal forces, their portentous architectural exaggerations pummelling the listener's senses into a state of nullified submission. It was reflective and tender, each new subject and harmonic strand treated with natural respect, and a visionary understanding of their correct place within the whole. One didn't require to express plaudits following it, but just to give thanks for revealing the music's inner message...".
Bill Newman
"On her disc of the Piano Music of Moises Moleiro his compatriot Clara Rodriguez plays both sensitively and rousingly. Of all the outstanding discs of this week, this one is my favourite for its fresh novelty".
Cork Examiner. Ireland
"Moises Moleiro's music is defended with enthusiasm and considerable grace by Clara Rodriguez. She has a highly articulate touch and a fine control of dynamics that are a pleasure to hear. A charming choice of programme that may prove even more interesting for introducing a very talented young artist. This CD is as vibrant and colourful as anyone could wish".
CD Review
ERNESTO LECUONA. Nimbus Alliance.
"This disc concentrates mainly on works by his Cuban and Spanish roots, encompassing influences from African and gypsy music. They are steeped in lyricism and mood. Phrases are vastly spaced, creating highly effective picture painting. On this CD, pianist Clara Rodriguez brings everything out with a great sense of mood and timing. This music is extremely enjoyable, very well constructed and, above all, wonderfully sunny. And on this disc it's also very well played".
Pianist Magazine – Selected Discs
"Her playing is an overwhelming whirl of intelligent and deeply controlled sounds led by an outstanding technique. She has a transcendental and volcanic temperament".
Intermezzo. Paris
Clara Rodriguez at the Wigmore
"Most of what Rodriguez played to a full Wigmore Hall on 20 December was marked by the sheer beauty of her tone.
Having tuned herself in with the sixth of Mompou's Cançon i dans she gave a wonderfully clear and precise account of Mozart's Sonata in B flat major K 333. In parallel to this the Polonaise-Fantaisie, one of Chopin's most rarefied works, was led into with the B major Nocturne Op.62 No 1. This latter, with its long skeins of trills, elaborate decorations and fairly radical harmonic departures, is itself a demanding task yet Clara Rodriguez understood Chopin's music extremely well…deep and heart felt performances. This seemed equally true of the South American composers who filled the recital's second half. Bagatelles by the Argentinian Rosas Cobian were colourful and pianistically resourceful. From Brazil, Villa-Lobos' Dansa do Indio Branco was in contrast insistently rhythmic, even noisy. It was back to colour and sensitivity in Antonio Lauro's Canción and Seis por derecho in which Rodriguez's playing was especially refined. The concluding piece also a Joropo, the most characteristic dance of Venezuela, was the rhythmic Zumba que zumba which is dedicated to the recitalist by Federico Ruiz".
Max Harrison. Musical Opinion
Americas without frontiers CD
New release on Nimbus Records 2017
"…the interpretative richness of the present work goes beyond the labels that could be placed on the 19 tracks of this CD where the melodic copiousness is a treasure that goes far beyond the American continent".
Sonograma Magazine. Catalunya
Venezuela: Clara Rodriguez Nimbus Alliance NI 6122
"Pianist Rodriguez's latest excursion through the music of her homeland encompasses 25 works from 18 composers, so one expects sweet little lollipops.
There are plenty of them, but waltzes from the likes of Federico Vollmer or Pedro Elias Gutierrez have a melodic subtlety to delight Debussy. Federico Ruiz offers jazzy urbanity and virtuoso display abounds, admirably presented by Rodriguez."
Classical Music Magazine
Reviews CD's International Piano May/June 2012
"Pianist Clara Rodríguez, a fervent proponent of Latin-American piano music, is a close collaborator with contemporary Venezuelan composer Federico Ruiz. Two pieces on the disc were written for the pianist: Tropical Triptych and Nocturne. Instantly, the opening Merengue places us geographically, at least in terms of continent, as there appears to be a clear influence of Ginastera. Rodríguez projects the infectious rhythms well and the work is a satisfying length. Ruiz clearly has a pronounced sense of humour, given the title of his pieces for 'children'(of less than 100 years). There is great charm to these pieces, and Rodríguez plays them with great affection. The expert pastiche of the Charlie Chaplin movement is a highlight, but it is Rodríguez's convincing way with the bitter-sweet elements of this music that marks her as on home territory. The more exploratory music not only provides contrast but gives us a hint of Ruiz's scope. The Nocturne is more chromatic and probes deeper, while the Micro-Suite is dodecaphonic. It sounds like Schoenberg but operates on a Webernian timeframe, which makes it all the more intriguing (the Passacaglia is the longest movement, at just over a minute). The Tropical Triptych puts the disc back on course with 15 minutes of liquid sunshine. Rodríguez plays the ornaments most fetchingly in the first movement, while the finale heralds a heady mix of conga, salsa and spiritual. This latter movement is compositionally as well as technically virtuoso, mixing more advanced writing harmonies with appealing rhythms. Recommended".
Colin Clarke
"Clara Rodriguez again filled the Wigmore Hall on 27 June and the quality of the performance made this seem unsurprising. While producing the most beautiful and rich piano tones, her Albéniz pieces were romantically played, stressing the harmonic adventures (Almería), elusive reverie (Evocación) and making us aware of the echoes of ancient Andalusian cante jondo (El Albaicín). The Venezuelan songs and dances were piquant, lively and engagingly played…a commanding performance of the Chopin Ballade No 4 Op. 52 as well as the Allegro maestoso of the Sonata Op. 58 No 3 with a fuller response to the very different characters of the Molto vivace and the Largo. The lyrical beauty of this latter was finely nuanced and in the closing Presto the rhythm surged most excitingly".
Max Harrison. Musical opinion
Ernesto Lecuona. Nimbus Alliance
"This disc concentrates mainly on works by his Cuban and Spanish roots, encompassing influences from African and gypsy music. They are steeped in lyricism and mood. Phrases are vastly spaced, creating highly effective picture painting. On this CD, pianist Clara Rodriguez brings everything out with a great sense of mood and timing. This music is extremely enjoyable, very well constructed and, above all, wonderfully sunny. And on this disc it's also very well played".
Pianist Magazine - Selected discs
"Three exquisite encores followed Clara Rodriguez's distinguished interpretation of Mozart's KV467, all sparkling and brilliant and received with strong applause. Her performance of the concerto was no less impressive, especially the famous Andante, played with a beautiful cantabile and rare emotion".
La Press. Tunis
"Clara Rodriguez enthralled her audience".
Financial Telegraph -Headline- Delhi
"Clara Rodriguez plays the music from South America like no other pianist, with a marvellous sense of phrasing, poetry and sparkling dynamism. This music belongs to her".
Arioso International. Saint Quentin. France
"At the Purcell Room on Wednesday a large, Latin looking crowd for the Venezuelan pianist Clara Rodriguez. Of special interest here were two composers also from Venezuela.Moises Moleiro's short character-pieces were like the 18th, 19th and early 20th centuries' music all caught up at once: Scarlatti- meets –Albeniz sonatas and, in Pictures of the plains, a sequence of linked episodes like a nationalistic tone poem, full of robust and prolific melody. The Tropical Triptique by Federico Ruiz, written last year, was more oblique and sophisticated, again melodically fluent but blues-tinged, and headed for an original synthesis of Latin American and Caribbean types in its irresistible final dance".
Robert Maycock. The Independent. London
"Clara Rodriguez plays the Piano Music of Federico Ruiz: The funny thing about this session is that you feel the fit between Rodriguez and Ruiz is like the original fit between Glen Campbell and Jimmy Webb. Playing with a passion that keeps her from coming up for air, she delivers the contemporary classic works of Ruiz with a fluidity and grace that takes things to a whole other level of the game. One of those players that makes you wonder how she can make so much sound all by herself, do not go into this date expecting it to be some wine and cheese recital music. Both the principles are on such fine display here that you can't wait for the composer to write some more for this South American piano playing gem to tackle. A winner throughout".
Chris Spector. Midwest Record, USA
"I have enjoyed a number of Clara Rodríguezs more recent discs and I have enjoyed this one as much. It helps to like Ernesto Lecuonas good-time music but I cannot imagine anyone, other than a diehard serialist, not liking it, or at least actively objecting to it. If you enjoy the imposing vistas projected in Ante El Escorial, a kind of lightweight Granados, you will be delighted by both the piece and the playing. There is real rhythmic vitality generated in Granada, with its ancillary hints of Debussy, something else that aligns the Cuban Lecuona to earlier Iberian composers such as Granados and Albéniz. Here, too, Flamenco is fused with Lisztian flourish with devilishly exciting results. The Danzas cubanas are full of verve and colour, and played with considerable digital clarity and stylistic acumen. Elements of the music sound like Cubano Rags, yet others like updated Gottschalk, which is not wholly unsurprisingly since they are nineteenth-century dances. The other two cycles are the Afro-Cuban Dances and Suite Andalucia. The former glitter ebulliently and are marked by teasing rhythms and splendidly hummable tunes. The latter cycle is no less exciting, each movement a monument to a town or landmark and full of colour, and a very personal sense of warmth and immediacy. The movement devoted to the Guadalquivir, for instance, is rich but not over-complex thematically. Clara Rodríguez's Lecuona selection is as fine as anyone's".
Jonathan Woolf, MusicWeb-International.com, February 2013